Never worry about going over on data limits.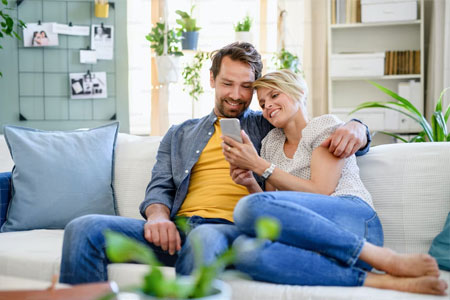 Internet Service
Fast, reliable Internet service without a phone line.
"Internet Only" plans come with free activation and local technical support.
Call to see what service is in your area 800-742-7464
Internet Pricing*
| | | |
| --- | --- | --- |
| Download Speed | Upload Speed | Price / mo.** |
| 25 Mbps | 5 Mbps | $59.95 |
| 40 Mbps | 5 Mbps | $69.95 |
| 50 Mbps | 50 Mbps | $79.95 |
| 100 Mbps | 100 Mbps | $99.95 |
| 200 Mbps | 200 Mbps | $129.95 |
| 500 Mbps | 500 Mbps | $149.95 |
Faster Speeds Available - Call!
Reap the benefits of High-Speed Internet access today!
Fast downloads.
No data caps.
Multiple video streaming devices.
Manage your account under My Account
Service availability depends on location. Speeds are based on maximum attainable speed. All prices exclude landline service. All Internet packages require an activation fee. Call for availability.
Prices shown do not include fees, taxes, wiring or equipment. All prices subject to change. Pricing requires paperless billing and autopay.

Webmail
You also have the option to log in to view your email on the web from any PC.

Email Filtering Service
Our email filtering service blocks unwanted junk and spam emails, as well as harmful viruses. Login here to review any quarantined email, as well as customize your filters and block or approve senders.

Technical Support
Click here for Internet Support Resources. For your convenience, Consolidated Telephone Co. offers a 24-hour Help Desk.

Paperless Billing
Paperless Billing is the most convenient way to receive your bill.

Online Bill Pay
Why bother with writing checks and purchasing stamps? Instead, pay your bill online.

24/7 Support
Customer service is a priority, our customers can reach us 24 hours per day, seven days per week.
General Policies and Legal Notices
By requesting online services from Consolidated Telephone Co., anyone with access to your connection must agree to abide by our terms of service. Among other terms, you understand that some material found on the internet may be considered offensive and not suitable for children and that it is the responsibility of the Internet customer to supervise children's access to the Internet account. A complete copy of our General Policies and Legal Notices can be found here.
Disclaimer
Consolidated Telephone Co. strives to provide reliable service, but cannot guarantee access at all times. Consolidated Telephone Co. user support services can assist with routine software configuration and connection troubles, but cannot remedy subscriber hardware. Software distributed by Consolidated Telephone Co. as a courtesy to its subscribers may require registration with manufacturer and is not guaranteed for fitness or reliability.