Stay connected to those you care about.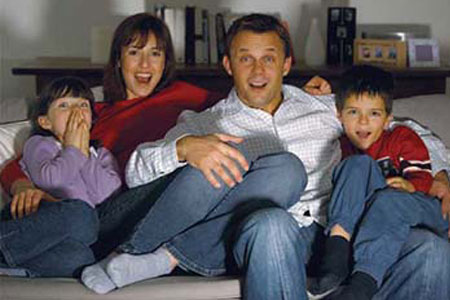 Phone Service
Stay connected to those you care about with a dependable, clear connection. If you need assistance, our local technicians and customer service staff are ready to help.
Basic Telephone Service
| | |
| --- | --- |
| Type | Price / mo.* |
| Residential | $19.95 |
| Business | $27.50 |
Calling Features:
Caller ID
Call Waiting
Call Waiting ID
Voicemail
Call Forwarding
3-Way Calling
Additional Calling Features* Available
Long Distance Service
With Consolidated long distance, you will enjoy competitive rates, and the convenience of having all of your communication services on one bill.
Long Distance Service
Out-of-state calls 13¢ per minute
In-state calls 20¢ per minute
800 Number Service 15¢ per minute
with a $5.00 monthly fee.
Phone Systems
Vertical Edge 700 IP Phone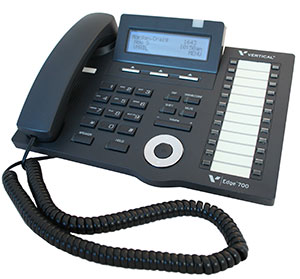 Offering comprehensive business-class capabilities at an affordable price, Vertical Edge 700 digital phones give small to mid-size businesses the quality and feature- rich phone sets they need to compete. Available in 8- and 24-flexible button models, Edge 700 phones support more than 100 telephony features when connected with the Vertical Wave IP and MBX IP business communications systems.
Vertical Edge 8000 IP Phone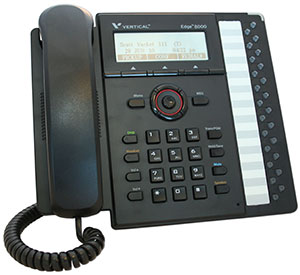 The Edge 8000 IP phones for the Vertical MBX IP and SBX IP communications systems are designed for ease of use as well as style. Both the 12- and 24-button models feature easy to read LCD displays and three contextsensitive soft keys plus a navigation key for intuitive, interactive call handling. Message waiting indicators let users see "at-a-glance" when messages are left. Edge 8000 IP phones also feature a fast switching speakerphone for handsfree operation, and each phone comes complete with a headset jack.

Additional Line
Add convenience and flexibility to your phone service with an additional line. If you have a modem, a fax machine, or teenagers who use the phone extensively, an additional line may be the solution for you.
Business Telephone Systems
Consolidated offers a wide variety of high quality telephone systems to fit your needs. If your needs are large or small, Consolidated can accommodate you with an affordable and efficient communication system for your business. We provide business systems specialists that are trained and certified on the installation and maintenance of our products.

Choose from a variety of single and multiple line phone systems. These systems have many standard features including several speed dialing options, intercom, paging functions and voice mail.

Businesses can benefit with features such as call transfer, conferencing and speakerphones. Small motels can benefit with features such as automatic wake-up calls, data ports and room status signals.

To schedule an appointment to determine your telephone system needs, please contact our business office at 800-742-7464.

Vertical Systems are Kari's Law Compliant - Kari's Law Declaration
Inside Wire Maintenance Plan
This plan assures that you will never be charged for a service call if something goes wrong with your inside wire or telephones. By signing up for this plan, you will avoid a service call, material charges and travel charges when trouble is found in your inside wiring or equipment you own.
Long Distance Service Freeze
A FREE service assuring your long distance choice cannot be switched without your consent. Consolidated wants to be your complete long distance provider. Please take a moment to click here and fill out the Long Distance Request Form.
One easy form.
One easy statement.
No other service fees apply.
One company you can trust.
* Service availability depends on location. Some calling features not included. Bundles available to residential customers only. Prices do not include taxes and regulatory fees. All prices subject to change.

Paperless Billing
Paperless Billing is the most convenient way to receive your bill.

Online Bill Pay
Why bother with writing checks and purchasing stamps? Instead, pay your bill online.

24/7 Support
Customer service is a priority, our customers can reach us 24 hours per day, seven days per week.